<%Response.charset="iso-8859-1"%>
8-Strip Multiply-µStripPro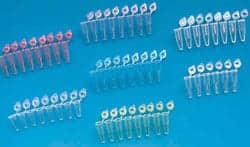 PCR tubes with individually attached caps
Sarstedt Inc, Newton, NC, has announced enhancements to its line of 8-strip Multiply-µStripPro PCR tubes with individually attached caps. Flat-cap versions are now available in standard and low-profile options with optically clear caps for real-time PCR applications. Sarstedt's 8-strips with individually attached dome caps are offered in clear and mixed color configurations. All Multiply-µStripPro strips can be easily snapped apart to form sections of fewer than 8 tubes, allowing for customization of individual sample runs. The tubes are PCR performance–tested and certified free of DNase/RNase, human DNA, and PCR inhibitors.
Sarstedt Inc
(800) 257-5101
www.sarstedt.com
---
Micro-Osmometer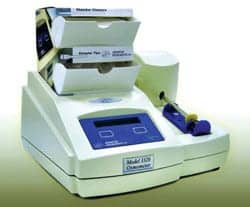 Downloadable upgrades
The Advanced Model 3320 Micro-Osmometer from Advanced Instruments, Norwood, Mass, is an accurate and reliable instrument for osmolality measurement. Its user-selectable, optional calibration routine optimizes the linearity in the instrument's upper range (up to 2,000 mOsm) and ensures testing accuracy and precision over the entire calibrated range. The device also features multilanguage prompts, downloadable upgrades, and a simple architecture that makes testing easier and promotes maintenance-free operation.
Advanced Instruments Inc
(800) 554-1620
www.aicompanies.com
---
SidePinch Clamps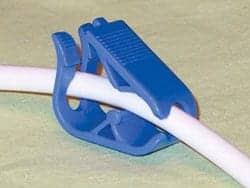 Can withstand any type of sterilization
SidePinch Clamps (SPCs) are marketed and distributed to medical professionals by The Next Phase Inc, Redmond, Wash. This component's patented design features on/off tubing, catheter or cannula assembly without cutting lines, and one-handed opening and closing for any fluid flow-control situation. The SPCs' flexible design and Nylon-6 polymer construction make this clamp safe and able to withstand any type of sterilization—even gamma irradiation. Available in four standard colors, this device comes in three sizes, fitting tubes from 6 FR to 22 FR, with six custom colors for high-volume orders. SPCs are designed for on-demand fluid-flow control in a variety of clinical, medical, emergency, and laboratory settings. This single-use, disposable clamp meets the standards demanded by the medical industry. SPCs are tough enough to handle any situation where fluid-flow cessation is needed.
The Next Phase Inc
(425) 894-4147
www.SidePinchClamp.com
---
High-Performance Filter Bags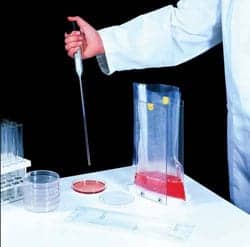 Sterilized, designed for single use
Advanced Instruments' subsidiary, Spiral Biotech, Norwood, Mass, offers the first high-performance filter bags for laboratory food and solid sample blenders and mixers. Spiral Biotech's BagFilter line of reinforced, heavy-duty plastic bags incorporates a unique nonwoven filter that separates bacterial flora from residual debris and provides easier and quicker pipetting. The single-use, sterilized bags save time. The products are available in 100-ml, 400- ml, and 3500-ml sizes.
Spiral Biotech
(800) 554-1620
www.spiralbiotech.com
---
Chlorascrub Swab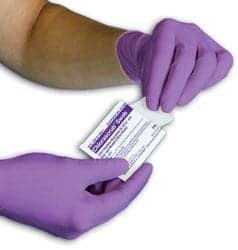 Preinjection skin antiseptic for kits
PDI, Orangeburg, NY, which specializes in wet-wipe infection prevention, education, and patient care, announced FDA approval of Chlorascrub Swab, a 3.15% chlorhexidine gluconate (w/v) and 70% isopropyl alcohol (v/v) preinjection skin antiseptic for inclusion in kits. The Chlorascrub Swab packaging was designed to withstand the ethylene oxide sterilization process for the manufacture of finished sterile kits. Chlorascrub Swab is a cost-effective delivery system for preinjection skin preparation. The product achieves a >2 log10 reduction in 30 seconds and maintains a >2 log10 reduction for at least 24 hours. The prep pad design covers a maximum treatment area of 2.5 by 2.5 inches.
PDI
(800) 444-6725
www.pdipdi.com
---
AquaTec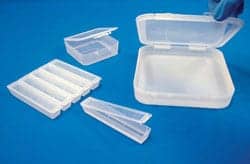 Improves sample protection
Thermo Fisher Scientific Inc, Pittsburgh, has unveiled the AquaTec water preservation cell for the effective prevention of waterborne contamination in CO2 incubators and water baths. Designed to provide worry-free sample incubation and cell culture, the AquaTec provides up to 6 months of protection from more than 600 types of bacteria, viruses, molds, and fungi. The device enables the prevention of microbes from water without the use of harsh chemicals, making it safe to handle and requiring no special disposal protocols. Just one 3-inch AquaTec cell placed into the water reservoir provides long-lasting disinfection without the need for mixing or measuring potentially hazardous materials. Self-regulation maintains the correct level of antimicrobial concentration, regardless of water level. The AquaTec has optional suction cups for placement and fixation in the water bath or incubator reservoir, and a convenient peel-off reminder calendar that indicates when replacement is recommended.
Thermo Fisher Scientific
(800) 547-7429
www.thermo.com/aquatec
---
Antibody Saver Incubating Trays
Stackable, reclosable, and reusable
New Scienceware Antibody Saver Incubating Trays from Bel-Art Products, Pequannock, NJ, reduce expensive antibody use. Filters are incubated in the Western blot process using a tray that matches the filter's size. Trays are available for popular midi- and minigels in both single- and multiple-lane sizes, with dimensions that provide enough clearance to manipulate the strips in the antibody solution. Each tray is molded of autoclavable polypropylene and includes an attached lid to protect against spillage. Trays are stackable, reclosable, and reusable, and come in packages of 5. Single-lane trays are linked together for easier handling, but can be separated.
Bel-Art Products
(973) 694-0500
www.belart.com
---
Kleenguard Eyewear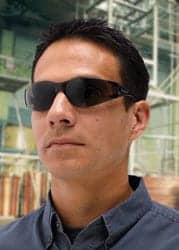 Impact-resistant
Kimberly-Clark Professional, Roswell, Ga, extends its Kleenguard brand with the launch of a new line of protective eyewear. The line includes 20 new eye protection products, further expanding the brand's broad selection of head-to-toe protective gear. The new protective eyewear offerings are impact-resistant, ANSI Z87.1+ compliant, and provide 99.9% protection from harmful UVA and UVB rays. The products range from standard visitors' glasses to frames with enhanced comfort and design features.
Kimberly-Clark Professional
(888) 525-8388
www.kcprofessional.com