Royal Philips, Andover, Mass, has received FDA 510(k) clearance for its Her2/neu IHC Digital Manual Read product in the United States.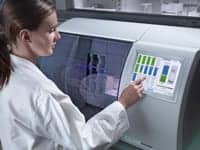 HercepTest™ is a commonly used test for pathologists in the assessment of treatment options for breast cancer patients, using conventional microscopy. It is a semiquantitative immunohistochemical assay for determination of HER2 protein.
"Digitalization will continue to revolutionize healthcare by providing the right clinical information to the right caregiver at the right time." says Perry van Rijsingen, general manager, Philips Digital Pathology. "Clinical pathologists will now have direct access to the digitally stored Her2/neu IHC images to help them in the detection and semi-quantitative measurement of immunohistochemically (IHC) stained breast cancer tissue on their computer monitor."
Now, with Philips Her2/neu IHC Digital Manual Read, they asses the HER2 status using a digital system and a computer monitor.
Pathologists can now benefit from the digital imaging advancements for scoring HercepTest™ stained tumor tissue slides that are digitized by Philips ultra-fast scanner, and made accessible through Philips advanced image viewing and analysis management system.
The Philips Her2/neu IHC Digital Manual Read is based on the Philips Digital Pathology Solution platform.
This automated digital slide-creation system was commercially introduced in Europe and Asia Pacific in 2012. http://www.philips.com
HercepTest is a trademarks of Genentech Inc, subject to licenses held by Dako Denmark A/S.
[Source: Royal Phillips]