SNP-Based Microarray
Identifies unbalanced chromosomal abnormalities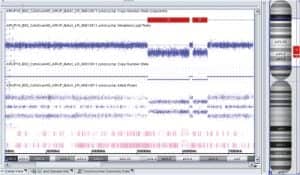 The Affymetrix® CytoScan™ HD Array from ARUP Laboratories, Salt Lake City, is the company's newest SNP-based microarray technology. SNP-based microarrays identify unbalanced chromosomal abnormalities (loss and/or gain of DNA) in patients with unexplained abnormal phenotypes such as intellectual disability, dysmorphic features, congenital anomalies, and autism. The Affymetrix CytoScan HD Array interrogates the entire genome using more than 2.6 million markers for copy-number analysis and approximately 750,000 SNPs. The high probe density provides broad coverage of constitutional, cancer, OMIM, and RefSeq genes on a single array and allows detection of gene-level, copy-neutral LOH, uniparental isodisomy, and regions identical by descent. The Affymetrix CytoScan Array may be ordered for various indications, including autism/autism spectrum disorder, intellectual disabilities, and multiple congenital anomalies with or without dysmorphic features, among others.
ARUP Laboratories
(800) 522-2787
www.aruplab.com
---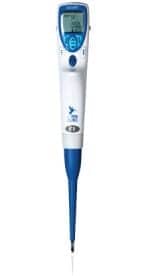 eLINE Pipette
Offers rapid piston movement
Biohit Inc, Neptune, NJ, introduces a new eLINE pipette with a range from 0.1 to 5 µL and a super pipetting feature. The pipette offers rapid piston movement, which allows complete emptying of the tip, making it possible to dispense the very small volumes from the air, which the company says is not possible with the regular pipettes. Pipetting small volumes against the receiving vessel wall or under the liquid surface to get all liquid out of the tip causes contamination risk, decreased precision, and slow pipetting work. Usually contaminations can be avoided by changing the tip between dispensing, but with the eLINE 0.1 to 5 µL dispensing from the air enables continuous work with the same tip as there is no need to touch the vessel or liquid.
Biohit Inc
(800) 922-0784
www.biohit.com
---
M-MLV Reverse Transcriptase
Thermostable up to 70°C

Bioneer® Inc, Alameda, Calif, introduces RocketScript™, an M-MLV Reverse Transcriptase thermostable up to 70°C. AccuPower RocketScript RT PreMix contains RocketScript, Bioneer's engineered M-MLV reverse transcriptase. RocketScript has broad thermostable activity (42°C~70°C), allowing efficient cDNA synthesis from virtually any RNA. The lyophilized PreMix contains all components necessary for a successful reverse transcription reaction, including RTase, RNase inhibitor, and buffer components. Just add template RNA, primers, and water, and the RT reaction is ready to go.
Bioneer Inc
(877) 264-4300
us.bioneer.com
---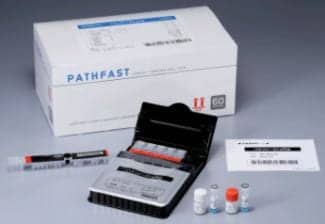 Cardiac Troponin I Analysis System
Benchtop chemiluminescence immunoanalyzer
Mitsubishi Chemical Medience Corp, Tokyo, has received FDA 510(k) premarketing notification clearance for its PATHFAST® cTnI-II (cardiac Troponin I) diagnostic test. The test is designed to be used with the PATHFAST analysis system, a self-contained, benchtop chemiluminescence immunoanalyzer that rapidly measures concentrations of emergency biomarkers from a single whole blood sample. The PATHFAST cTnI-II test determines the quantity of cardiac troponin I, a protein that is integral to cardiac muscle contraction, which is elevated in the bloodstream after damage to the myocardium. With its whole blood use capability, the system eliminates the need for centrifugation of the specimen preparation, and can be used with either plasma or serum. The system has a 17-minute turnaround time.
Mitsubishi Chemical Medience Corp
+81-(0)3-6414-4800
www.medience.co.jp/english
---
TPSA, FPSA Assays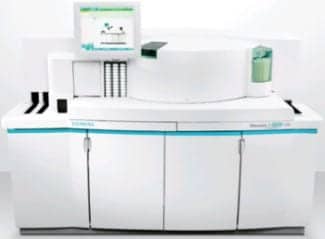 Help detect prostate cancer
Siemens Healthcare Diagnostics, Deerfield, Ill, offers two new high-precision assays, Total PSA (TPSA) and free PSA (FPSA), for use on the Dimension Vista® 1500 Intelligent Lab System (pictured). When used in conjunction with a digital rectal exam in men 50 years and older, TPSA and/or FPSA measurements help detect prostate cancer, and calculations of percent FPSA may be useful to distinguish cancer from benign prostate conditions. The new assays, which provide consistency in results reporting and accurate patient monitoring (LOCI TPSA: 2.31-5.18 %CV/LOCI FPSA: 2.32-3.78 %CV), are the first to employ Siemens' LOCI Advanced Chemiluminescence Technology for the quantitative measurement of PSA. LOCI technology uses an oxygen channeling mechanism that provides unlimited signal generation, and requires fewer reaction steps, resulting in fast turnaround times for all assays. In the United States, T/FPSA is for use on the Dimension Vista 1500 System only. The assays are under FDA review for use on the Dimension Vista 500 System.
Siemens Healthcare Diagnostics
(847) 267-5300
www.siemens.com/healthcare
---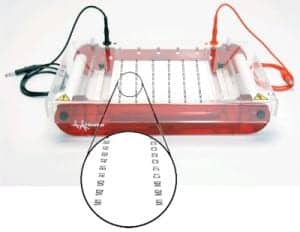 Submarine Gel Electrophoresis Unit
Nucleic acid analysis
Hoefer Inc, Holliston, Mass, offers its new SUBHT high-throughput submarine gel electrophoresis unit. The device provides rapid, error-free nucleic acid analysis. It is able to run an entire 96-well plate of samples (plus up to 24 control or marker lanes) in 30 minutes. Quickly load the contents of an entire 96-well plate in eight steps with a multichannel pipette. The device also offers multichannel pipette-compatible well spacing and labeled gel running tray to ensure positive ID of loaded samples. The UV transparent gel running tray contains fluorescent labels that correspond with every well on the 96-well sample plate. A large selection of different combs and accessories allows users to optimize the unit for any application.
Hoefer Inc
(800) 227-4750
www.hoeferinc.com
---
ALK Gene Test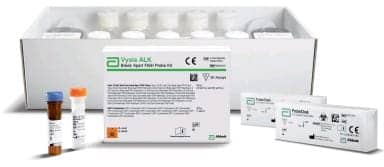 Designed to identify ALK-positive NSCLC patients
Abbott, Abbott Park, Ill, has received FDA approval for a new molecular diagnostic test, Abbott Vysis ALK Break Apart FISH Probe test, which is designed to detect rearrangements of the anaplastic lymphoma kinase (ALK) gene in non-small-cell lung cancer (NSCLC). The new test is designed to identify ALK-positive NSCLC patients for Pfizer's approved NSCLC therapy, XALKORI® (crizotinib), an oral first-in-class ALK inhibitor. The Vysis ALK FISH test uses Abbott's fluorescence in situ hybridization (FISH) technology to detect rearrangements of the ALK gene on the 2p23 chromosome.
Abbott
(847) 937-6100
www.abbott.com
---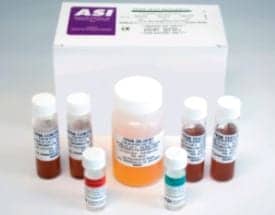 TPHA Test
Fast hemagglutination assay
Arlington Scientific Inc (ASI), Springville, Utah, has released the ASI treponemal pallidum hemagglutination (TPHA) test. The test is a fast hemagglutination assay that aids in the detection, diagnosis, and monitoring of the treatment of syphilis. The ASI TPHA test is a qualitative and semiquantitative hemagglutination test for the presence of IgG and IgM antibodies to treponema pallidum. Blood tests for syphilis are divided into nontreponemal and treponemal tests. Nontreponemal tests are used initially and include venereal disease research laboratory (VDRL) and rapid plasma reagin (RPR). Positive results are often confirmed with a treponemal test such as TPHA or fluorescent treponemal antibody absorption test (FTA-Abs).
Arlington Scientific Inc
(801) 489-8911
www.arlingtonscientific.com
---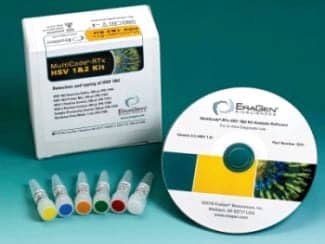 HSV Diagnostic Test
Detection of HSV-1 or HSV-2
EraGen Biosciences, Madison, Wis, a Luminex company, has received FDA 510(k) clearance for use of the NucliSENS easyMAG extraction system with the MultiCode -RTx HSV 1&2 Kit. This additional capability allows the laboratory to select its workflow, using either the Roche MagNA Pure or the easyMAG extraction system. The MultiCode-RTx HSV 1&2 test provides PCR-based qualitative testing and typing of HSV-1 and HSV-2 in approximately 4 hours. The test is indicated for use in the detection and typing of HSV-1 or HSV-2 in vaginal lesion swab specimens from symptomatic female patients over 18 years of age as an aid in the diagnosis of genital herpes infection. The test is for in vitro diagnostic use.
EraGen Biosciences
(866) 327-3290
www.eragen.com