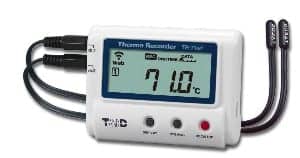 T&D Corporation has announced a new wifi-based 2-channel Temperature Data Logger Model TR-71wf with a measurement range of -40°C to 110°C with the supplied sensor. An optional fluoropolymer coated sensor offers a range from -60 to 155°C. Measurements are available in centigrade or fahrenheit.
The device interfaces easily with a smartphone or tablet and can be configured and operated without a PC, uploading data to T&D's cloud-based WebStorage service. A free ThermoWeb app is compatible with both IOS and Android. Users can also sign up for alert emails.
For more information, visit T&D Corporation.