---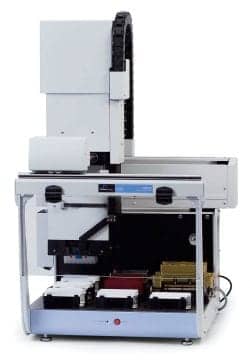 Automated Liquid Handling Platform
Reduces time spent on sample-preparation tasks
The JANUS® Automated Workstation from PerkinElmer Inc, Waltham, Mass, is a flexible and scalable automated liquid-handling platform designed to reduce the time spent performing manual and repetitive sample-preparation tasks. The instrument is available in several deck sizes and configurations, and its capabilities consist of nanoliter to multimilliliter liquid transfers within a variety of common labware vessels. Partial- to full-scale automation is possible with the combination of integrated custom software and/or ancillary hardware devices such as detection units, incubators, microplate washers, and storage mediums. It utilizes powerful, yet easy-to-use WinPREP software. This Windows-based graphical user interface gives automation engineers or lab technicians complete freedom and control of protocol management and execution with simple click-and-drag features.
PerkinElmer Inc
(800) 762-4000
www.perkinelmer.com/labautomation
---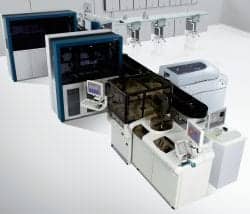 Automation System
Fully integrates with specimien-processing management
Using ADVIA Automation Solutions, from Siemens Healthcare Diagnostics, Tarrytown, NY, laboratories can maximize lab productivity through expanded capacity and enhanced automated lab management. This multidiscipline system offers high capacity and increased throughput, and fully integrates with specimen-processing management, centrifugation, and decapping. The plug-and-play approach for adding or switching instruments and components allows each system to evolve as laboratories' needs change.
Siemens Healthcare Diagnostics
(914) 631-8000
www.siemens.com/diagnostics
---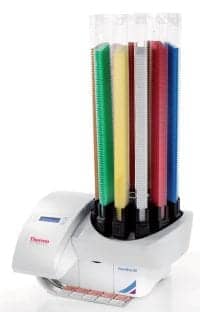 Cassette Printer
On-demand cassette printing
Thermo Fisher Scientific, Kalamazoo, Mich, offers the PrintMate ES cassette printer, which meets the needs of Lean workflow and error reduction within the laboratory. The printer's small footprint allows it to fit at the grossing station, enabling on-demand cassette printing. Printing cassettes on demand allows the user to print cassettes for one case at a time, reducing the risk of putting the incorrect specimen in the cassette. Bar codes can be scanned to input patient data, eliminating the chance for transcription errors. Bar codes printed on cassettes automate downstream patient-identification processes and enable Lean workflow. The PrintMate ES can print on the new Thermo Scientific SecureSette tissue cassette as well as standard tissue cassettes.
Thermo Fisher Scientific
(800) 522-7270
www.thermoscientific.com/printmate
---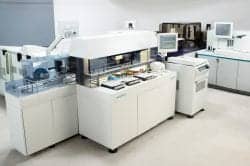 StreamLAB Automation Solution
Multidiscipline architecture
StreamLAB® Automation Solutions from Siemens Healthcare Diagnostics, Tarrytown, NY, helps laboratories streamline their workflow by automating manual steps with highly flexible, compact configurations for efficient space utilization and minimal lab disruption during implementation. StreamLAB Automation Solutions' flexible and scalable multidiscipline architecture allows a laboratory to evolve with changing needs as new technologies become available, including the ability to enhance laboratory management by easily connecting other Siemens analyzers. It also enables laboratories to create one of the most comprehensive menus available, and reduces the need to send samples out for additional testing.
Siemens Healthcare Diagnostics
(914) 631-8000
www.siemens.com/diagnostics
---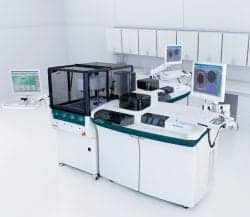 Sample Management Technology
Connects up to two stand-alone instruments
Siemens Healthcare Diagnostics, Tarrytown, NY, offers the VersaCell System. The sample-management technology works to increase workflow efficiency for chemistry and/or immunoassay testing. It is a compact, robotic system that connects up to two stand-alone instruments in flexible configurations. The VersaCell system is efficient and affordable for any size lab. It offers flexibility, versatility, and functional independence.
Siemens Healthcare Diagnostics
(914) 631-8000
www.siemens.com/diagnostics
---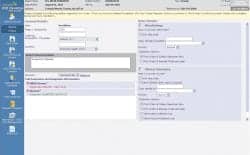 Web-Based Physician Portal
Streamline and automate test ordering
The Physician Portal from Sunquest Information Systems, Tucson, Ariz, delivers meaningful connectivity to community-based physicians who refer patients to a laboratory's outreach and outpatient radiology services. The system also supports extending increased revenue potential for other outpatient services offered by the health care enterprise. The solution enhances coordination of care by providing timely and historical diagnostic patient data. This Web-based solution provides connectivity that can streamline and automate test ordering and results delivery to community-based physicians. The system is fully integrated with Microsoft HealthVault, so results can be sent electronically directly to the patient's personal health record in HealthVault.
Sunquest Information Systems
(800) 748-0692
www.sunquestinfo.com
---
Cobras 4800 System
Automates nucleic acid purification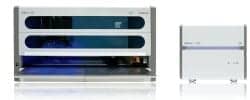 The cobas 4800 system from Roche Diagnostics, Indianapolis, automates nucleic acid purification, PCR setup, and real-time polymerase chain reaction (PCR) for true walk-away automation that provides maximum laboratory efficiency. Because it requires less hands-on time than many comparable systems and needs minimal daily maintenance, the cobas 4800 system frees staff members to spend more time on other critical tasks. The Roche standards for reagent development include the AmpErase® enzyme, internal control, and a kinetic algorithm to deliver consistent test results. FDA-approved assays include the cobas HPV test and the cobas 4800 BRAF V600 mutation test.
Roche Diagnostics
(800) 428-5076
www.mylabonline.com
---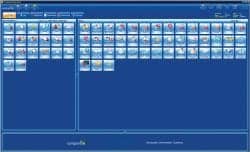 Laboratory Information System
Lab software update
Sunquest Information Systems, Tucson, Ariz, now offers the Sunquest Laboratory™ version 7.0, an update to its laboratory software. A new, intuitive, interactive, and customizable graphical user interface provides an improved and more personalized user experience. Sunquest designed the new user interface in partnership with clients to support a variety of user preferences for system interaction. The new interface is designed to be highly compatible with touch screen technology, so it enables quicker learning and simplified adoption.
Sunquest Information Systems
(800) 748-0692
www.sunquestinfo.com
---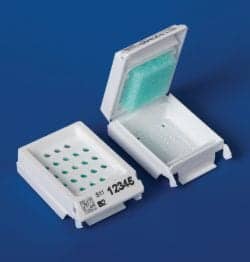 Tissue Cassette
Compatible with existing tissue processors
The Thermo Scientific SecureSette tissue cassette from Thermo Fisher Scientific, Kalamazoo, Mich, enables final tissue sample orientation at the time of grossing. Orientation is maintained through tissue processing and embedding, which reduces the amount of manual labor time needed at the embedding step of the histology process. This improves sample chain of custody and enhances laboratory workflow. Using SecureSette in the histology lab results in a 50% reduction in embedding time, a 50% reduction in the rate of re-embedding, elimination of the need to scrape excess paraffin from blocks, and the elimination of forceps-crushing artifacts and forceps cross contamination. It is compatible with existing tissue processors and embedding centers, which are common in the laboratory.
Thermo Fisher Scientific
(800) 522-7270
www.thermoscientific.com/securesette
---
enGen Laboratory Automation System
Configured to fit a wide variety of lab sizes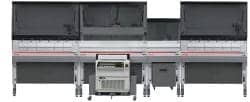 The enGen Laboratory Automation System from Ortho-Clinical Diagnostics Inc, Raritan, NJ, is a flexible and scalable solution that can automate and standardize laboratory processes, allowing customers to increase laboratory activity. The system boosts the throughput and efficiency of the company's VITROS® Systems by eliminating operator interventions and autoverifying results. Open, configurable, expandable, and tailored enGen solutions allow users to mix and match capabilities or easily add modules or interfaces as—and when—needs change. Additionally, the enGen can be configured to fit a wide variety of lab sizes and floor plans. The scalable system offers from a simple workcell configuration with a single point of entry, decapping, and automatic load balancing between multiple analyzers for all samples run, to full automation including preanalytical and postanalytical tasks. Automatic rerouting for repeats or dilutions minimizes operator intervention, and validation of final result helps ensure results security while maintaining the highest level of traceability required by regulatory bodies.
Ortho-Clinical Diagnostics Inc
(908) 704-3888
www.orthoclinical.com
---

Sysmex Lavender Top Management
Minimizes sample touch points
Sysmex Lavender Top Management® from Sysmex America Inc, Mundelein, Ill, is a comprehensive automation solution that maximizes operational efficiencies, provides quality clinical information, and minimizes sample touch points throughout the entire testing process. This solution also offers the integration of both hematology and diabetes (HbA1c) testing onto a single island of automation. Lavender Top Management enables laboratories to realize virtually hands-free analysis of more than 90% of high-volume EDTA tests and management of virtually 100% of EDTA tubes through sample sorting, rerouting, and archiving. It is driven by Sysmex WAM™ Decision Support Software for the Clinical Laboratory. This library of rules is customized to a laboratory's best practices and unique workflow, standardizes processes, and positions the laboratory for future growth.
Sysmex America Inc
(800) 379-7639
www.sysmex.com/us
---
Automated Processing System
Physical automation system

The ACCELERATOR Automated Processing System (APS) from Abbott Laboratories, Abbott Park, Ill, is a physical automation system that provides flexible preanalytics and postanalytics, as well as direct connectivity to Abbott ARCHITECT platforms. The ACCELERATOR APS offers configurability to customers' needs with modules such as centrifuge(s); decapper; resealer; storage and retrieval; desealer; 90° track bend(s); and ARCHITECT c8000, c16000, and i2000SR(s). Additionally, an aliquoter module is in development.
Abbott Laboratories
(847) 937-6100
www.abbottdiagnostics.com