iCE 3000 Series of Atomic Absorption Spectrometers
Compact footprint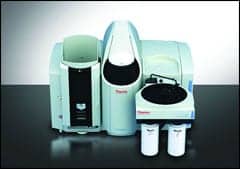 Thermo Fisher Scientific Inc, Waltham, Mass, introduces iCE 3300, iCE 3400, and iCE 3500, its new Thermo Scientific iCE 3000 series of atomic absorption (AA) spectrometers. The products facilitate prolonged operation, even with difficult samples. They feature a small footprint, accommodate flame and furnace analyses, and operate on the intuitive iCE SOLAAR software platform. The wizards of the iCE SOLAAR software guide users through various operational procedures, providing a step-by-step guide to routine activities and demonstrating the correct sequence of operations to achieve a specific objective. Designed as a dual-flame and furnace AA system with standard or Zeeman furnace option and D2-background correction, the iCE 3500 is useful for high-throughput environments requiring fast and regular flame and furnace analyses. Changeover from flame to furnace analysis is entirely software-controlled, allowing for unattended operation. The iCE 3400, which also features Zeeman and D2 background correction, is a single-furnace atomizer AA system designed to perform even in cases of challenging detection limits. The iCE 3300 is a complete solution for labs that primarily perform flame analyses but that occasionally process furnace samples. The help text and cookbook offer information on the operational conditions for elemental analysis. Application tips for sample preparation and matrix modifiers are available in the software. The SOLAAR Security software is able to secure data for compliance purposes and good practice, and provides tools needed to comply with the FDA 21 CFR part 11 ruling by adding e-signatures, event logs, audit trails, and access controls.
Thermo Fisher Scientific Inc
(800) 532-4752
www.thermo.com
---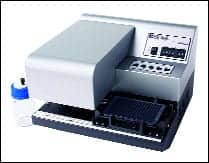 NanoQuot
Liquid dispensing technology
The NanoQuot™ from BioTek Instruments Inc, Winooski, Vt, uses pressurized solenoid valves for precise liquid dispensing in submicroliter volumes, which offers scientists increased assay throughput and lower reagent expenses. It is useful for transitioning into high-density, low-volume microplate formats while maintaining backward compatibility with existing formats and volumes. Pressure can be regulated for complete dispense accuracy control and to accommodate a range in sample viscosities and well bottom geometries. It dispenses volumes down to 100 nl. Applications include ELISA, cell-based assays, PCR setups, diluent dispensing, compound distribution, compound storage, and compound reformatting.
BioTek Instruments Inc
(888) 451-5171
www.biotek.com
---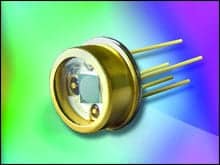 NIR/Red Enhanced 6mmÇ ODA-6W-500M Photodetector-Preamplifier
Combination device
Opto Diode Corp, Newbury Park, Calif, introduces the new NIR/Red enhanced 6mmÇ ODA-6W-500M photodetector-preamplifier, a photodiode-preamplifier combination device that features higher gain in lower light environments. The low-light, high-sensitivity component has a large active area that operates in the NIR wavelength with response at 940 nm (typically 315 V/µW, min 290). The standard 6mmÇ ODA-6W-500M offers 500 Mohm gain with custom gains also available, according to customers needs. The new component is based on the company's proprietary shielded amplifier electronics, featuring low noise and high sensitivity in the red-enhanced preamp combination detector. The hermetically sealed TO-39 can is suitable for assembly in confined spaces. The unit is useful for applications such as fluorescence, microscopy, and analytical chemistry. The detector is designed for integration into new and existing systems. Storage and operating temperature ranges from -25°C to +100°C.
Opto Diode Corp
(805) 499-0335
www.optodiode.com
---
Walk-Away Specimen Processor
Single, universal platform
Copan Diagnostics Inc, Murrieta, Calif, introduces the new Walk-Away Specimen Processor (WASP), which uses a single, universal platform to automatically plant and streak most bacteriology specimens such as swabs, urine, and fecal samples, regardless of the specimen type or container style. The system can run continuously, and every hour it processes at least 180 urine samples, throat swabs, or nasal swabs. Using robotics, the instrument replicates the steps medical technologists perform, from opening specimen containers, to dipping the loop, planting samples, and streaking plates using traditional preprogrammed, quadrant-streaking techniques. It includes a library of textbook-style streaking patterns or the option to design and save custom streak patterns. The machine returns to the container any number of times for additional samples if more plates need to be seeded, or it automatically closes the specimen container to move to the next specimen. Lab technologists only return to the machine when it is necessary to collect finished streaked plates or to load more specimens, which helps to avoid fatigue and repetitive stress injuries from performing the tasks and helps them focus on more esoteric activities that require skill and independent judgment.
Copan Diagnostics Inc
(800) 216-4016
www.copanusa.com/products/wasp
---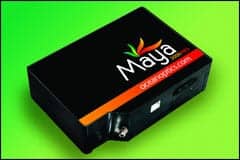 Maya2000-series Spectrometers
High dynamic range
Ocean Optics, Dunedin, Fla, introduces the Maya2000-series high-sensitivity back-thinned 2D FFT-CCD spectrometers. The new Maya2000 and Maya2000 Pro provide performance for applications not requiring long integration times. Suited to low-light-level, UV-sensitive applications such as fluorescence, DNA sequencing, and Raman analysis, the units offer more than 90% quantum efficiency and high dynamic range. They feature a USB 2.0 interface, low-noise electronics, 14 grating options, and a detector collection lens option for enhanced signal collection. Fully programmable strobe signals allow for the selection of single or continuous strobes to suit application needs. The units are controlled with the company's completely modular, Java-based SpectraSuite software (Windows®, Mac OS, and Linux compatible). The spectrometers offer similar performance for most parameters, but the Maya2000 has a slightly faster readout time while the Maya2000 Pro provides a better dynamic range and signal-to-noise ratio.
Ocean Optics
(727) 733-2447
www.OceanOptics.com
---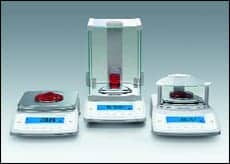 CPA Series
Lab balances
Sartorius Mechatronics Corp, Edgewood, NY, introduces the new CPA series of lab balances, which feature automatic internal calibration via an integrated calibration weight at the touch of the CAL key. If ambient temperature fluctuates outside of a user-defined range, or after a preprogrammed time interval, the isoCAL function automatically performs internal calibration and adjustments at regular intervals. A bidirectional RS-232C interface port on all models facilitates communication with a PC and lab robotics. The high-contrast, backlit display provides readability under varied lighting conditions, and the micro- and semimicrobalances operate without backlighting. The series consists of 29 models ranging from microbalances to heavy-duty models with a weighing capacity of up to 34 kg. Connected to the company's data printer or a computer, the balances generate the mandatory documentation for use in a ISO/GLP-compliant quality-management system.
Sartorius Mechatronics
(800) 635-2906, ext 8272
www.sartorius-usa.com
---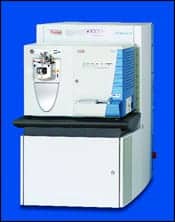 LTQ Orbitrap Discovery and LTQ Orbitrap XL
Mass spectrometers
Thermo Fisher Scientific Inc, Waltham, Mass, extends its range of Thermo Scientific life science hybrid mass spectrometry with the introduction of two new instruments: the LTQ Orbitrap Discovery™ and the LTQ Orbitrap XL™. They provide mass accuracy, resolving power, dynamic range, and sensitivity. The system is suited for general proteomics and metabolism applications, offering an alternative to Q-TOF systems. Featuring high resolution and accurate mass capabilities, the hybrid LC-MS system achieves high-throughput label-free profiling for differential expression while the MSn capability makes the instrument useful for small-molecule characterization and structural elucidation. The Discovery is a highly sensitive system with up to 30K resolution power and enables the separation of trace-level, isobaric analytes. The XL is a protein identification and biomarker discovery platform featuring sensitivity in MS and MSn, rapid scan rate, high mass accuracy, and up to 100K resolution power. The XL model features the new HCD octapole collision cell for increased flexibility in MS/MS fragmentation applications, including iTRAQ™-based peptide quantitation, PTM analysis, de novo sequencing, and metabolomics research. The proteomics platform is also compatible with, and upgradeable to use, the electron transfer dissociation (ETD) option for controlled dissociation of peptides and proteins, which makes the instrument useful for proteomics research.
Thermo Fisher Scientific Inc
(800) 532-4752
www.thermo.com/orbitrap
---
Click-N-Seal Ferrule-type fitting
Helps prevent overtightening
Diba Industries, Danbury, Conn, has expanded its line of Click-N-Seal™ connection fittings to suit a wider range of fluid connection types. Previously available only for flared connections, the Ferrule line helps prevent overtightening of these fittings in scientific and IVD instruments. Designed for Bio-Chem Fluidics' Omnifit Gripper, Type S and inverted cone ferrules, the reusable fittings provide objective feedback to prevent excess torque. The preassembled device prevents the fitting over- or undertightening that causes poor fluid connections and leaky processing, without tools. When the correct torque is reached, the reusable fitting produces a click the installer can feel and hear, and physically prevents tightening beyond that point. The fitting can be unthreaded and reused, stopping at the correct torque every time. In ferrule-type fittings, overtorquing can compress tubing, interrupting consistent fluid flow, and leading to leaks. Connections are available with 1¼4-28 and M6 thread-size fittings in three colors for convenient connection coding and identification. Configurations are custom fit to any instrument manufacturer's specification, and customers may specify tubing material, inside diameter, and outside diameter of up to 1¼8 inches.
Diba Industries
(877) DIBA IND
www.dibaind.com
---
Sani-Hands ALC Antimicrobial Alcohol Gel Hand Wipes
Kills 99.99% of harmful bacteria
Professional Disposables International Inc (PDI), Orangeburg, NY, has introduced the new Sani-Hands® ALC antimicrobial alcohol gel hand wipes to replace the Sani-Dex® ALC antimicrobial alcohol gel hand wipes. This is a name and reorder number change only—the products have the same formulation. The name modification allows customers to recognize and purchase the same product from consumer retail store shelves. In addition to 135-count canisters and 100-count boxes containing individual packets, a new 220-count canister and 1,000-bulk individual packets are available. The wipes are proven effective at killing 99.99% of harmful bacteria, including Methicillin-resistant Staphylococcus aureus, and also remove soil from hands because of the friction of the wipe. The wipes are made from a nonwoven cloth saturated with an ethyl alcohol gel solution that is fragrance and dye-free, which is nondrying to skin and clinically proven to moisturize skin after repeated use.
PDI
(800) 444-6725
www.pdipdi.com
---
Antimicrobial Portable Desktops and Clipboards
Reduce bacteria and fungi
Saunders, Readfield, Me, is offering several products made from recycled aluminum with antimicrobial additive that reduce the formation of bacteria and fungi on the products. They are suitable for use in medical, health, pharmaceutical, food service, and other microbe-prone environments. The antimicrobial properties will remain throughout the life of the product despite repeated washing. The agent potentially extends the useful product life as it resists deterioration resulting from fungi, mold, and mildew. Redi-Rite, the principal product in the storage clipboard line of portable desktops, features the antimicrobial product protection in the opaque finish. Features including a 1.5-inch-capacity storage compartment and a high-capacity clip with a built-in license/card holder make this product useful for people who are multitasking in the field. The black DeskMate II, made from durable polypropylene, features a large storage compartment that keeps materials organized and a low-profile clip with rubber grips that holds paper securely on the front. The company has introduced Sanitized® antimicrobial product protection to the recycled plastic clipboards made in the United States, which support EPA standards.
Saunders
(800) 341-4674
www.saunders-usa.com
---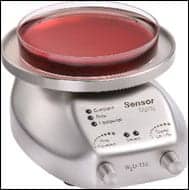 Sensorturn and Sensorturn pro Turntables
For inoculation of petri dishes
WLD-TEC, Göttingen, Germany, introduces the new Sensorturn and Sensorturn pro, turntables designed for inoculation of petri dishes up to 150 mm in diameter. They use touch-free IR-sensor technology, which helps provide simple operation with the movements of the hand—or the units can be operated with an optional foot pedal. They offer flexible start-stop functions or a second-timer control with variable rotational periods from 1 to 25 seconds. For longer applications, the time can be extended to 125 seconds. Sensorturn features a continuously variable rotational speed control with a range of 14 to 110 rpm. Sensorturn pro's range is 14 to 210 rpm. The control helps provide uniform plating of the petri dishes up to a diameter of 100 mm (optional: up to 150 mm). The device's stainless steel construction and its flame-sterilizability help ensure sterility.
WLD-TEC Gmbh
(310) 589-3709
www.wld-tec.com
---
StatStrip Glucose Test Strip
For bedside glucose testing
The StatStrip™ glucose test strip for bedside glucose testing offered by Nova Biomedical, Waltham, Mass, incorporates a patented new strip technology that uses four measuring wells. The company's Multi-Well™ system measures and corrects hematocrit interference and interferences from acetaminophen (Tylenol), uric acid, ascorbic acid (Vitamin C), maltose, galactose, xylose, and lactose. The product helps eliminate oxygen interference to provide accurate glucose results regardless of the sample's oxygen status.
Nova Biomedical
(800) 458-5813
www.novabiomedical.com