Innovative products featured by exhibitors at the American Association for Clinical Chemistry 2019 scientific meeting and clinical lab expo.
Erythrocyte Sedimentation Rate Analyzer
Requires just 100 µLof sample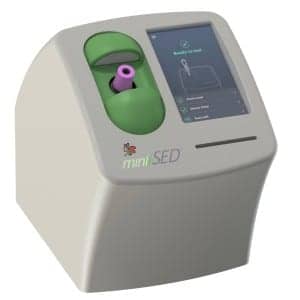 The miniiSED analyzer for the measurement of erythrocyte sedimentation rate (ESR) is fast, accurate, and unaffected by the many variables known to be associated with traditional methodologies, such as hematocrit. The fully automated analyzer works directly from primary ethylenediamine tetraacetic acid (EDTA)blood collection tubes or BD Microtainer MAP microtubes, requires just 100 µL of sample, is equipped with an internal barcode reader, and produces a result in just under 15 seconds. The analyzer's small footprint, combined with its advanced design and rapid time to result, makes it suitable for ESR testing in small laboratories, physician office laboratories, and emergency clinics.
Alcor Scientific
(800) 495-5270; www.alcorscientific.com
Visit AACC booth 715
Vitamin D Controls
Simulates human patient samples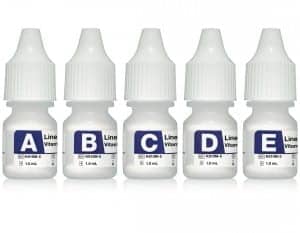 Linearity FLQ Vitamin D controls for Ortho Vitros analyzers are intended to simulate human patient samples for use in determining linearity, calibration verification, and the verification of reportable range for vitamin D assays. It is a frozen liquid product, consisting of five levels that demonstrate a linear relationship to one another when assayed for vitamin D. The product is stored at –15 °C, and has an open-vial stability of 7 days when stored at 2–8 °C.
Audit MicroControls
(866) 252-8348; www.auditmicro.com
Visit AACC booth 3539
Enteric Viral Panel
Pathogen detection and differentiation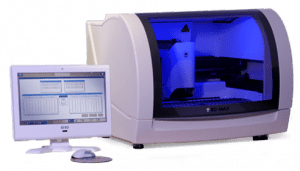 The BD Max enteric suite of molecular tests for the detection of gastrointestinal bacterial, parasitic, or viral pathogens enables clinicians to perform targeted testing for patients based on their symptoms and health history of exposure. This testing approach is supported by guidelines from the Infectious Diseases Society of America. The BD Max enteric viral panel is a 510(k)-cleared molecular diagnostic for the direct qualitative detection and differentiation of enteric pathogens that cause viral gastroenteritis. It is designed for targeted detection of the viral cause of infectious diarrhea symptoms in all care settings, and can detect adenovirus, human astrovirus, norovirus, rotavirus, and sapovirus, returning results in 3.5 hours.
BD
(201) 847-6800; www.bd.com
Visit AACC booth MR3
Early Sepsis Indicator
Hematology-based cellular biomarker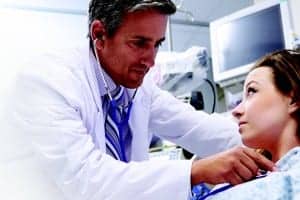 The Early Sepsis Indicator by Beckman Coulter is a first-of-its-kind test for a hematology-based cellular biomarker designed to help emergency department physicians identify patients who have sepsis or are at increased risk of developing sepsis. For adult emergency department patients, test results are automatically reported as part of a routine complete blood count with differential. A positive result signals a higher probability of sepsis, enabling physicians to initiate lifesaving treatments sooner. Conversely, a negative reading indicates a lower probability of sepsis.
Beckman Coulter
(800) 526-3821; www.beckmancoulter.com
Visit AACC booths 3201 and MR22
Human Coagulation Applications
Antibody and antigen product offerings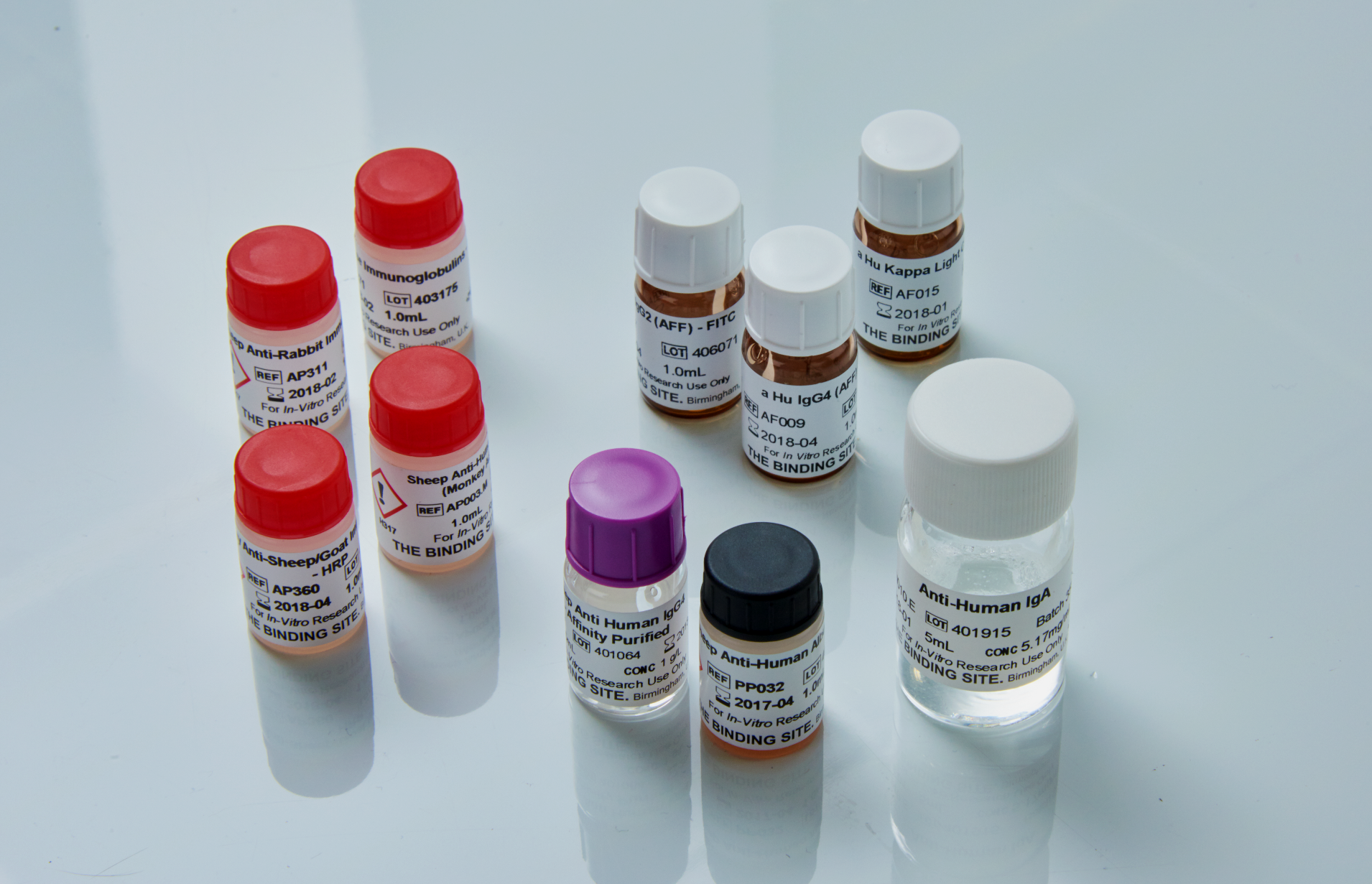 The Binding Site's prothrombin and glycerol-free prothrombin proteins are available as antigens, while the company's antibody products include antihuman fibrinogen, fibronectin, plasminogen, prothrombin, thrombin, and von Willebrand factor. The products support the needs of IVD manufacturers, along with clinical, biopharmaceutical, and life science researchers, as all of the products are designed to work as critical components in a number of enzyme immunoassay testing applications. Both product lines feature extended shelf-life stability and lot-to-lot consistency, and are manufactured in ISO-certified and FDA-regulated facilities. All products are available in unitized, standard-vial-size formats, with bulk packaging and customer-specific design options available as well.
The Binding Site
(800) 633-4484; www.immunologicals.com
Visit AACC booth 1927
InteliQ Controls
QC in barcoded, load-and-go tubes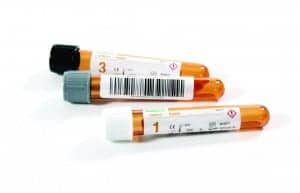 Bio-Rad's InteliQ controls are designed to automate labs' quality control (QC) on next-generation platforms. InteliQ is a range of nine QC products offered in a convenient tube configuration, together with easy XML data upload of lot-specific QC values and unique sample tracking for traceability. The barcoded load-and-go controls reduce hands-on time and manual errors. Together with the advanced data management tools provided by Bio-Rad's Unity Interlaboratory QC system, InteliQ controls can also streamline laboratory workflow.
Bio-Rad Laboratories
(949) 598-1200; www.qcnet.com
Visit AACC booths 2938, 3239, MR20, MR27, MR31, MR32, MR33
Clinical Chemistry Analyzer
Up to 900 photometric chemistries per hour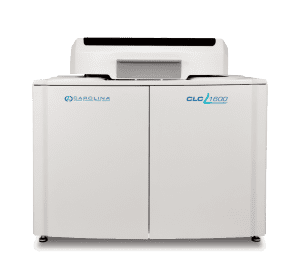 The CLC 1600 is a powerful, high-volume floor model chemistry analyzer designed for both mid-size and large clinical labs. With 160 reaction cuvettes, 132 total reagent positions, and 140 total sample positions, the analyzer can process up to 900 photometric tests per hour (1200 tests per hour with ion-selective electrode tests). The analyzer's holographic concave flat field grating leads to less reagent waste and supports discrete, random-access, batch, and stat samples; bar-coded sample tubes; bar-coded, ready-to-use reagents; and up to four-part reagents. Robust calibration functionality enables automatic calibration and nine types of calibration curves. Available quality control features include Westgard multirules, Levey-Jennings charts, and cumulative summaries.
Carolina Liquid Chemistries
(877) 722-8910; www.carolinachemistries.com
Visit AACC booth 3514
Hematology Analyzer
Accurate five-part differential results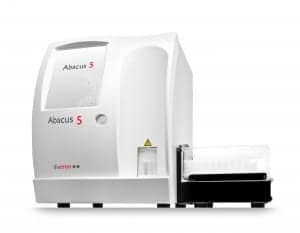 The Abacus 5 system is a compact benchtop analyzer for performing five-part white blood cell (WBC) differential testing. The analyzer offers two sampling modes: a cap piercing mode for closed-tube sampling, and another mode for open tubes. The Abacus 5 can be enhanced to meet changing needs by adding an autosampler with 100-tube sample capacity for walkaway capability, or adding a small-sample-volume module for reduced sample volume requirements. Utilizing patented optical laser-based WBC differential technology, the instrument provides cost-effective, precise, and accurate five-part differential results, and can perform 60 tests per hour. The system is suitable for use in most hospitals, laboratories, and satellite clinics that are looking for advanced technology that is reliable, safe, accurate, and easy to use.
Diatron
(833) 228-7931; www.diatron.com
Visit AACC booth 3531
Glycated Albumin-L Assay
Intermediate glycemic control marker for diabetes
The FDA-cleared Lucica glycated albumin-L glycemic control assay is a quantitative test for measuring glycated albumin (GA). The assay measures both GA and total albumin in separate reactions. GA is a sensitive marker for intermediate glycemic control in diabetes patients and can confirm blood glucose changes over the preceding 2 to 3 weeks. The test is standardized to an established reference and is specific for GA, making it different from traditional fructosamine tests. As it expresses results as a ratio of GA to total albumin, this standardized test minimizes differences in protein ratios between patients, ensuring more-specific results.
EKF Diagnostics
(800) 531-5535; www.ekfusa.com
Visit AACC booth 2952
Water Purification Systems
Reduce exchange frequencies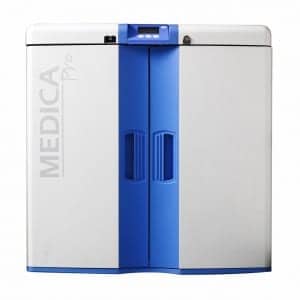 A line of pure and ultrapure water purification systems can provide either a few or thousands of liters of water per day. Medica systems help to achieve 100% uptime by providing high-quality water and emergency bypass, suitable for clinical lab, hospital, and medical research applications. The systems include recirculation of high-purity water, ensuring low bacterial specification, and long-lasting deionization cartridges that reduce exchange frequencies.Medica electrodeionization units combine technologieswith low running coststo ensure purified water exceeding Clinical and Laboratory Standards Institute guidelines for clinical laboratory reagent water.
Elga Lab Water
(203) 567-7300; www.elgalabwater.com
Visit AACC booth 4314
STD Detection Kit
A single swab detects 16 pathogens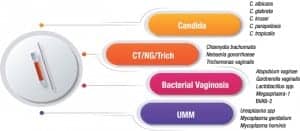 Enzo Life Sciences has expanded its comprehensive sexually transmitted infection portfolio by adding targets for women's health-related pathogens. A single swab specimen is used to detect pathogens related to sexually transmitted infections and bacterial vaginosis, including Candida auris, Chlamydia trachomatis, Mycoplasmataceae,Neisseria gonorrhoeae, Trichomonas vaginalis, and Ureaplasma urealyticum.The tests use quantitative real-time polymerase chain reaction and Enzo's proprietary Ampiprobe technology, which incorporates reporter and quencher dyes into the molecular primers. Target detection is based on fluorescence decay when successive rounds of amplification bring fluorophore- and quencher-labeled primer pairs in close proximity, resulting in fluorescence resonance energy transfer.
Enzo Life Sciences
(800) 942-0430; www.enzolifesciences.com
Visit AACC booth 2654
Benchtop Laboratory Equipment
Equipped with safety features and warranty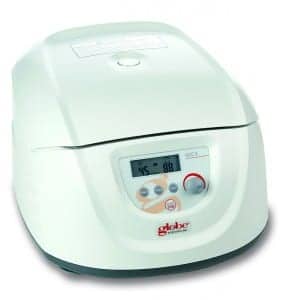 Globe Scientific's line of benchtop equipment for the laboratory includes several different centrifuges (clinical, hematocrit, micro, mini, and refrigerated), a variable-speed vortex mixer, rotisserie- and carousel-style tube rotators, and tube rollers and stirrers, with more models in the pipeline for introduction later this year. Each model is equipped with advanced technical and safety features and comes with a 2-year warranty.
Globe Scientific
(201) 599-1400; www.globescientific.com
Visit AACC booth 3554
ThinPrep Integrated Imager
Desktop dual-slide review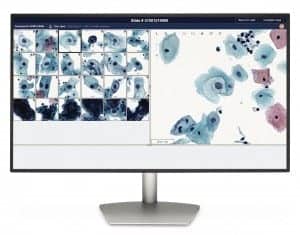 Hologic's newest Pap test imaging solution, the ThinPrep integrated imager, combines state-of-the-art imaging technology with the convenience of dual-slide review in a single, automated, standalone microscope that fits neatly on a desktop.Individual slides can be imaged and made ready for cytotechnologist review in approximately 90 seconds. During that time, the device scans each cell and cell cluster using optical density analysis and proprietary interpretation algorithms across the entire slide. It then identifies 22 fields of interest for the cytotechnologist to determine whether further review is needed. Slide reviews are tracked on an intuitive touchscreen.
Hologic
(508) 263-2471; www.hologic.com
Visit AACC booth MR13
Hematology Solutions
Benchtop and scalable automation systems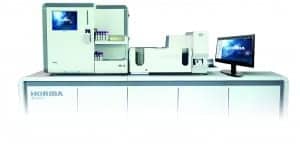 Horiba Medical is offering two new hematology systems under the Horiba Evolutive Laboratory Organization (HELO) brand: the Yumizen H1500 analyzer for complete blood count (CBC) with eight-part differential, and the Yumizen H2500 analyzer for CBC with eight-part differential plus testing for body fluids, malaria, and reticulocytes. The benchtop systems are suited for low-volume laboratories; four scalable automation configurations are suited for mid-volume, large, and extra-large volume laboratories and reference laboratories. The Yumizen H1500 and H2500 analyzers process 120 samples per hour; carry onboard reagents (four reagents for the H1500, and five reagents for the H2500); and optimize mixing by rotating sample tubes 360° prior to aspiration to ensure complete sample homogeneity. The Yumizen SPS slide preparation module and Yumizen P8000 middleware system with embedded International Society for Laboratory Hematology consensus rules provide enhanced workflow capabilities.
Horiba Medical
(888) 903-5001; www.horiba.com
Visit AACC booth 1323
Blood Gas Testing System
Detects potential errors during sample analysis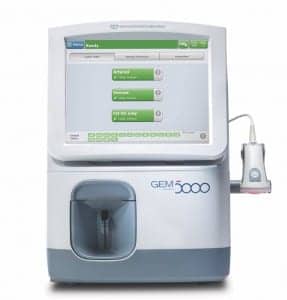 The Gem Premier5000blood gas testing system provides automated quality assurance with every sample. Now with next-generation intelligent quality management (iQM2), featuring new IntraSpect technology, potential errors are detected not only before and after, but also during sample analysis, along with real-time correction and documentation. Operation is simple, requiring operators to change the all-in-one Gem Pak reagent cartridge just once a month.
Instrumentation Laboratory
(781) 861-0710; www.instrumentationlaboratory.com
Visit AACC booths 639, 653
21-Hydroxylase ELISA Kit
Detects autoantibodies in serum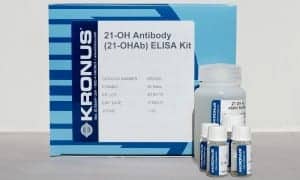 The microsomal autoantigen 21-hydroxylase (21-OH) is the autoantigen associated with primary adrenal insufficiency, known as Addison disease.The Kronus 21-hydroxylase autoantibody (21-OHAb) enzyme-linked immunosorbent assay (ELISA) kit detects 21-OH autoantibodies in human serum. The kit makes use of the ability of the autoantibodies to act divalently and form a bridge between antigen coated on ELISA plate wells and liquid-phase 21-OH biotin. Once this bridge is formed, streptavidin peroxidase is bound to the colorogenic substrate of 3,3′,5,5′-tetramethylbenzidine (TMB). The absorbance of each well is directly proportional to the amount of autoantibody present.
Kronus
(800) 457-6687; www.kronus.com
Visit AACC booth 2218
Troponin I Controls
Assists with fulfilling quality control requirements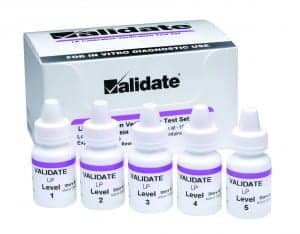 The Validate high-sensitivity troponin I linearity and calibration verification kit from LGC Maine Standards is the only linearity and calibration verification product targeting Beckman Coulter's high-sensitivity troponin I assay. Provided in a human serum matrix, each troponin kit is liquid, ready to use, prepared using the CLSI EP06-A 'equal delta' sample preparation method, and offers five distinct concentrations specifically covering the reportable range. Operators dispense the solution from each dropper bottle directly into five sample cups, and run in replicates. The kit allows clinical laboratories to complete their required high-sensitivity troponin I linearity and calibration verification and maximize the reportable range while minimizing manual dilutions.
LCG Maine Standards
(800) 377-9684; www.mainestandards.com
Visit AACC booth 2265
Critical Care Blood Gas Analyzer
Produces a complete test panel in 60 seconds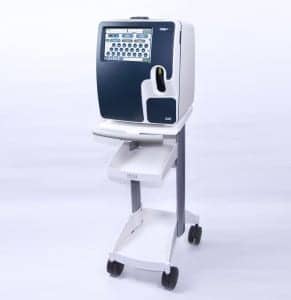 The StatProfile Prime Plus is a compact point-of-care analyzer that provides results for a comprehensive critical care menu of whole-blood tests, including blood gases, cooximetry, electrolytes, hematology, metabolites, and 32 calculated results. The analyzer combines maintenance-free, replaceable cartridge technology for sensors and reagents with a patented maintenance-free and nonlysing whole-blood cooximetry technology. The analyzer uses a small sample of 135 µL; produces rapid results—a complete test panel in about 1 minute; and offers bidirectional connectivity and a powerful onboard data management system.
Nova Biomedical
(781) 894-0800; www.novabio.us
Visit AACC booth 3039
Syndromic Testing System
Simultaneously detects multiple respiratory pathogens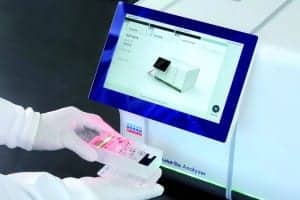 The QIAstat-Dx represents the next generation in multiplex molecular diagnostic systems, using real-time polymerase chain reaction technology to perform fast, cost-effective, and flexible syndromic testing. Based on the company's proprietary DiagCore technology, the system is being launched in the United States with a comprehensive respiratory panel that detects more than 20 pathogens. To perform a test, the operator loads a clinical sample into a single-use QIAstat-Dx cartridge and places it in the analyzer, requiring less than 1 minute of hands-on time. The system is designed to operate in a range of near-patient clinical settings, eliminating the delay of sending samples to a centralized laboratory. Results are available in about 1 hour.
Qiagen
(800) 426-8157; www.qiagen.com
Visit AACC booth 3550
Liquid Urinalysis Quality Control
Made with simulated human urine matrix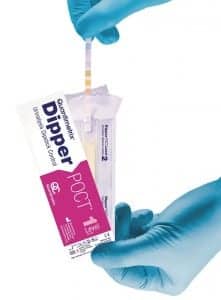 The Dipper POCT urinalysis dipstick control is a single-use liquid control made with a simulated human urine matrix and formulated with native ketones. The product's pouch design enables users to visually verify full immersion of the dipstick, minimizes the risk of contamination, and reduces the sample volume required for testing. Dipper POCT is designed for use in every testing environment, including central labs, nursing stations, physician office labs, and reference labs. Dipper POCT offers extraordinary room temperature stability of 3 months, and refrigerated stability of 3 years from the date of manufacture, exceeding the stability of other urinalysis controls currently on the market.
Quantimetrix
(800) 624-8380; www.quantimetrix.com
Visit AACC booth 1510
Pre- and Postanalytical Processing System
For independent or complementary use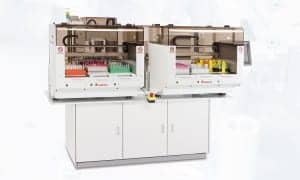 The Sarstedt PVS 1625 is a comprehensive modular laboratory automation system for pre- and postanalytical processing. The system is customized according to facility needs and can be used independently or as a complement to any analytical platform. It is especially suited for applications that require aliquoting to be performed offline, apart from an automated track system. Modules are available for bulk or rack loading, identification of barcode and tube type, decapping, sorting, aliquoting, and recapping. Aliquots can be made directly into compatible Sarstedt screw-cap tubes and immediately recapped for send-outs, or they can be capped after analysis, for archiving. The PVS 1625 is compatible with most analyzer racks and common tube types and dimensions.
Sarstedt
www.sarstedt.com
Visit AACC booth 3123
Sex Hormone Binding Globulin Test
Differentiates between total, free, and bioavailable testosterone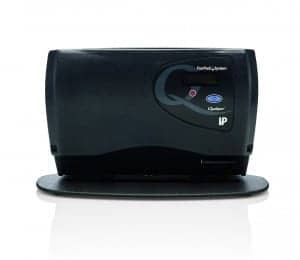 The FastPackIP SHBG test is a chemiluminescent immunoassay intended for the quantitative determination of sex hormone binding globulin (SHBG) in human serum and plasma, using the company's FastPack automated quantitative immunoassay analyzer. A total testosterone test determines the overall amount of testosterone in the bloodstream, but does not differentiate between bound and unbound forms of the hormone. Measurement of SHBG in addition to total testosterone enables the calculation of free and bioavailable testosterone. Physicians can better interpret their patients' androgen status with a comprehensive understanding of the differences between total, free, and bioavailable testosterone.
Sekisui Diagnostics
(781) 652-7800; www.sekisuidiagnostics.com
Visit AACC booth 2523
Integrated Analyzer
Customizable automation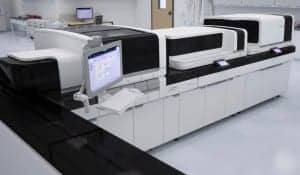 The Atellica Solution is an integrated clinical chemistry and immunoassay analyzer that offers more than 300 customizable configurations in linear, L-, and U-shapes, and can connect to Aptio automation for a comprehensive multidisciplinary solution. The system can handle more than 30 sample container types, including pediatric and tube-top sample cups, and special containers. The system's multicamera vision system, intelligent sample routing, and automated quality control and calibration capabilities work together to provide independent control over every sample. As stat samples are recognized, they are prioritized, and routine specimens are moved out of the way via the system's patented, bidirectional magnetic sample-transport technology, so that stat samples can be processed immediately upon introduction to the analyzer.
Siemens Healthineers
(888) 826-9702; www.siemens-healthineers.com
Visit AACC booths 1039, MR19, MR26, MR39
Antimicrobial Resistance Detection Kits
Kits detect all five CRE gene families

Streck Antimicrobial Resistance Detection (ARM-D) kitsidentify the most clinically important current and emerging antimicrobial resistance threats, including all five gene families of carbapenem-resistant Enterobacteriaceae: IMP, KPC, NDM, OXA, and VIM. Mobilized colistin resistance targets include the MCR-1, MCR-2, MCR-3, MCR-4, and MCR-5 gene families. The Streck ARM-D kits are comprehensive, including targets for ampC beta-lactamases as well as extended-spectrum beta lactamase types CTX-M-14, CTX-M-15, GES, SHV, and TEM. Each kit supplies a validated positive control for each target and a 16S internal control target. The kits are open-platform compatible and can usually be used on existing quantitative polymerase chain reaction instruments.
Streck
(800) 843-0912; www.streck.com
Visit AACC booth 2035
Paperless Bacteriology
Links an existing LIS to automated instruments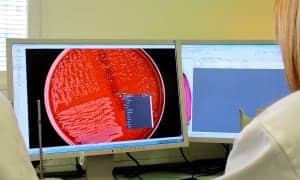 Designed with the help of microbiologists, Technidata's BactiLink middlewarelinks an existing laboratory information system to automated bacteriology instruments. The software enables users to implement a paperless bacteriology function, and to benefit from the advantages of a cost-effective paperless workbench. BactiLinkis dedicated to modern bacteriology, offering a workflow designer; paperless processes; traceability to meet the requirements of ISO 15189, the international quality systems standard for medical laboratories; customizable epidemiology and alerting; and connectivity with instruments and lab automation systems such as the BD Kiestra total lab automation solution and the Copan WASPLab system.
Technidata
+33 (0) 476 04 1300; www.technidata-web.com
Visit AACC booth 2019