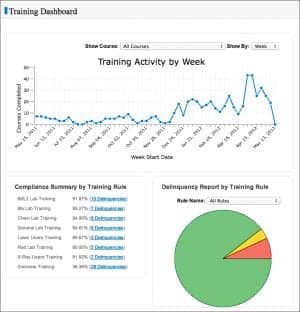 In a clinical lab, there's a lot to consider in achieving safety and complying with safety regulations. Chemicals, blood-borne pathogens, formaldehyde, lab equipment, and electrical and fire safety are among many elements that need to be addressed as potential danger areas, and compliance with safety regulations is paramount.
Dan Scungio, MT (ASCP), SLS, CQA, lab safety officer for Sentara Healthcare, Norfolk, Va, says safety concerns in clinical labs include prions, HIV/STDs, ergonomics, spill cleanups, hand hygiene, pipetting, and blood-borne diseases.
Prions are especially infectious and have been a recent focus for clinical labs, Scungio says. They're not bacteria or viruses, but proteins in a misfolded form that must be treated differently from all other known infectious agents. (The name "prion" is a combination of "protein" and "infection.") The most widely known example of a prion is transmissible spongiform encephalopathy, or mad cow disease, but prions occur in and can infect both humans and animals. "Prions are not new, but there's not a lot of information on guarding against them in the lab," Scungio says.
According to the Centers for Disease Control and Prevention (CDC), most TSE agents, or prions, have a preference for infection of the homologous species, but cross-species infection with a reduced efficiency is also possible. After cross-species infection, there is often a gradual adaptation of specificity for the new host. However, infectivity for the original host may also be propagated for several passages over a time span of years. The process of cross-species adaptation can also vary among individuals in the same species, and the rate of adaptation and the final species specificity is difficult to predict with accuracy. Such considerations help to form the basis for the biosafety classification of different prions.
In humans, the CDC says, prion-caused diseases include Creutzfeldt-Jakob disease (CJD), sporadic CJD (sCJD), variant CJD (vCJD), familial CJD (fCJD), latrogenic CJD (lCJD), Gerstmann-Sträussler-Scheinker syndrome (GSS), and fatal familial insomnia (FFI).
The agency notes that in the laboratory setting, prions from human tissue and human prions propagated in animals should be manipulated at BSL-2. BSE prions can likewise be manipulated at BSL-2. Due to the high probability that BSE prions have been transmitted to humans, certain circumstances may require the use of BSL-3 facilities and practices. All other animal prions are manipulated at BSL-2. However, when a prion from one species is inoculated into another, the resultant infected animal should be treated according to the guidelines applying to the source of the inoculum. (Contact APHIS National Center for Import and Export at (301) 734-5960 for specific guidance.)
The safest and most unambiguous method for ensuring that there is no risk of residual infectivity on contaminated instruments and other materials is to discard and destroy them by incineration, according to the CDC. Current recommendations for inactivation of prions on instruments and other materials are based on the use of sodium hypochlorite, NaOH, Environ LpH, and the moist heat of autoclaving with combinations of heat and chemical being most effective.
ENSURING LAB SAFETY CAN DEPEND ON LOGISTICS, ORGANIZATION
According to Nathan Watson, president and CEO of BioRAFT, Cambridge, Mass, and Laboratory Safety Institute board member, one of the biggest hurdles to meeting safety challenges is organizational. "We have to address structural challenges in labs' organizations, and one reason they exist is because of personnel turnover rates," Watson says. "Although turnover in clinical labs is lower than in research labs, it does occur. Clinical labs must identify who is in the lab, who they report to, and whether they have taken appropriate safety training courses. In order to do that, labs must have an organizational structure in place to ensure that responsibility for safety and compliance is clearly defined and identified."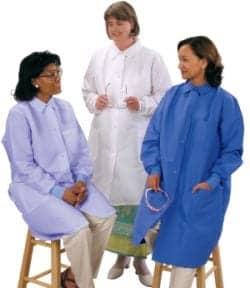 DenLine Protection Plus apparel has been designed to assist health care workers who have potential of splash and spray of blood, body fluids, or chemicals.
"Safety in labs is very much a logistics issue because there's forgetfulness and push-back on the part of lab personnel," Watson adds.
BioRAFT is a Web-based software system that builds that organizational structure: Labs can create profiles of researchers, assign specific safety training requirements, and track their compliance. It's a vast improvement over the old spreadsheet method, Watson says, which relied on manual efforts to keep records updated, and issue e-mail reminders that lab personnel could easily overlook or forget.
One example is in the area of exposure to human pathogens, for which the Occupational Safety and Health Administration (OSHA) regulates lab techs' exposure. Labs are required to track exposure and ensure that the person completes blood-borne pathogen training—something that has traditionally been done manually. The BioRAFT system streamlines the process and tracks all information in a central database, accessible by all—including HR and environmental health and safety departments—with varying permission levels to ensure data security. "We ensure that everyone in the lab, including lab personnel and management, can see their records and keep compliance up to date," Watson says. "Notices of upcoming training sessions are posted in the system, reminders are sent, and attendance noted." Previously, it was easy for lab workers to miss reminders or be unable to attend training. The software system continues notifying personnel until they are in compliance and generates compliance reports, expressed graphically and in narrative form.
"Compliance has traditionally not been the focus of clinical labs, but it has to be done," Watson adds. "The focus is understandably on performing assays, so most see compliance as a hassle."
The system has multiple modules to improve safety and compliance. A training module offers online training courses; when personnel complete them, BioRAFT automatically captures the information in their profile. An equipment module tracks certification and service dates as part of a lab's profile, and can include user manuals and training materials. This is particularly valuable for dangerous equipment. The system even tracks who is using such equipment and can assign personnel to particular pieces of equipment based on their health and safety training and experience. It also notes when additional personnel need to be trained on certain types of equipment. "The key is that the system creates a bridge between the lab and environmental health and safety," Watson says.
BioRAFT is modular, and available in a number of configurations, so it's not necessary for a lab to purchase an entire system unless it needs it, Watson says, adding that the system's adoption rate is very good in labs, which view it as an improvement over previous systems.
LAB UNIFORMS PLAY IMPORTANT SAFETY ROLE
Lab uniforms are also vital in ensuring safety, and DenLine Protection Plus R lab coats are helpful in promoting safety for technicians.
Dennis Adams, president, DenLine Uniforms Inc, Quincy, Ill, says that DenLine Protection Plus apparel has been designed to assist health care workers who have potential of splash and spray of blood, body fluids, or chemicals, and subject to OSHA Directive(s) 29CFR 1910 and OSHA enforcement procedure(s) CPL 02-02.069.
The product is tested splash resistant to all aqueous fluids (blood and body fluids) and meets Level 2 liquid barrier performance specified in AAMI PB70, the liquid barrier performance and classification of protective apparel and drapes intended for use in health care facilities, developed by the Association for the Advancement of Medical Instrumentation, Adams says.
DenLine also offers hot water wash (160°F/71°C), which disinfects garments without the use of bleach, and meets CDC recommendations for processing and disinfecting medical linen.
DenLine breathable fabric is comparable to polyester-cotton blend. "Being breathable and comfortable is an important safety attribute of the coat, because if the coat is hot, users resist wearing them or keeping them closed in front," Adams says. "This has the potential of becoming a safety issue in event of splash of blood or OPIM [other potentially infectious materials]." Tapered sleeves are closed off with spun-woven polyester cuffs for overgloving to prevent splash above the hand from reaching the wrist, forearm, or personal clothing.
DenLine Protection Plus is available in female styles and unisex. Some 85% of the medical technicians and technologists are female, and the proportions of the female style provide better splash protection in many cases, Adams says. The apparel is available in sizes 2XS to 5XL.
From an OSHA standpoint, the manufacturers of protective lab coats need to provide sizes offering suitable protection for all employees, not just those sized S to 3XL, Adams says. DenLine Protection Plus apparel features antistatic fabric, which minimizes the potential for spark when working with flammable liquids. The antistatic feature is also important when working with computerized instruments, as static accumulation in a lab coat may result in a false instrument reading, Adams notes.
DenLine Protection Plus is made of textured fibers, which promote better top-of-leg protection when the wearer is seated. Surface tension of the fabric prevents the fabric from falling off the top of legs. Further, the surface tension of the fabric minimizes the potential to slide off the bench when seated.
Stainless snaps enable all employees, regardless of height, to completely close the front of the coat for maximum protection. Snaps allow removing the coat without handling buttons or zippers; a soiled coat is designed to fold into itself when removing.
DenLine Protection Plus is available in white, ceil blue, royal, and emerald green. From a safety standpoint, colors are useful in identifying lab employees and separating clean coats from soiled ones, he notes.
The coats all contain a caution label in the collar, notifying users that the coats meet 16 CFR 1610, while also cautioning to not let the material come in contact with open flame.
DenLine Protection Plus is now available in lightback construction for improved comfort, which leads to improved safety and compliance to OSHA. The new lightback design is made of synthetic material with the air permeability of 65% polyester/35% cotton.
Adams says using a synthetic material on the back of these coats offers the following benefits:
No lint to contaminate samples, and also ideal for a molecular initiative.
The back material has the same 200-plus wash life of the material on the front.
No differential shrink causing unsightly puckers at the seams where the front and back of the coat meet.
Splash- and stain-resistant material on the back.
LAB UNIFORM TRENDS
"Lab coats purchased to meet OSHA 29 CFR1910 splash-potential applications in a lab are a specification-driven purchase," Adams says. "Today's lab directors, managers, and safety officers are increasingly able to articulate the specifications that are desirable in a coat, and demanding coats with these features for their application.
"Application-specific protective apparel [suitable for one or two applications] is increasingly being replaced by lab coats that meet all the safety/OSHA concerns of the lab," Adams says. "This trend has resulted because of cross-training needs, workers not wearing the coats for the specific intended application even though they are available, and the availability of more breathable protective apparel on the market."
Reusable/launderable lab coats for lab application are increasingly replacing disposables, Adams says.
A Go Green Initiative is either under way or receiving attention in most hospitals across the United States, Adams says. Studies show disposable lab coats generate some 50 times more solid medical waste than DenLine Protection Plus reusable lab coats; this solid medical waste is either disposed of by incinerating, or adding to our landfills, Adams says. "Assuming three coats per employee, following is a comparison of medical waste generated using DenLine Protection Plus reusables versus disposables over the 8-year wash-life of the company's coats:

Adams says that looking at the numbers for the entire nation, if all 375,000 medical technologists and technicians in the United States used disposables, in just 8 years (the life of three DenLine coats) they would generate 61.8 million pounds of solid medical waste versus only 1.1 million with DenLine Protection Plus Lab Coats.
[  web
box

 ]

DIGITAL EDITION PREVIEW
Visit the digital edition to learn more about safety products, and scope out resources for your lab.

DIGITAL EDITION
To view the digital edition of CLP magazine go to our homepage.
"Another factor contributing to the growth of reusable protective coats is cost," Adams says. "Properly structured, a reusable lab coat program will be less than half the cost of providing protection using disposables."
WHEN MSDS GO MISSING
Accidents happen, even when dealing with paperwork. Coffee spills, paper tears, sheets go missing. Fortunately, there are options for replacing Material Safety Data Sheets (MSDS) quickly and easily.
The manufacturer or distributor of the chemical should be able to provide the most recent edition. In some cases, it may be available through the company's Web site.
Laboratories associated with teaching hospitals may be able to find a collection of MSDS in the university library. If the organization has an environmental or occupational health office, copies may potentially be found there as well.
And, as always, the Internet is an excellent resource. Both free and subscription service sites exist with searchable MSDS databases. Interactive Learning Paradigms Inc, a consulting and advertising firm located in Blackwood, NJ, has assembled a comprehensive list of options at: www.ilpi.com/msds/index.html.
---
Gary Tufel is a contributing writer for CLP. For more information, contact Editor Judy O'Rourke, .