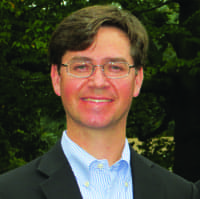 Sten WestgardSten Westgard discusses how labs can save time and money by adopting a high-quality mind-set upfront
BY: KURT WOOCK
Sten Westgard, director of client services and technology for Westgard QC, Madison, Wis, is an expert on quality. The author of multiple books about quality in labs, he has promulgated the link between higher quality and lower cost for years. While the idea might seem counterintuitive to some, Westgard says that, as you look downstream, the costs related to instituting quality standards outweigh the costs incurred from error-prone testing. CLP spoke to Westgard about what his insights into quality practices mean in the context of a changing payment model and greater financial pressures from outside the lab.
CLP: The idea that higher quality can actually drive down cost is a relatively new one. Can you explain the background behind the idea?
Sten Westgard: Actually, the idea is an old one that's become new again. There's a classic book from 1979 by Philip Crosby called Quality is Free. The concept is simple: High quality makes you more profitable, so profitable that making the investment to achieve that level of quality is relatively cheap and easy to accept. There are some labs and health systems that are still stuck on the opposite idea: To them, high quality means high cost. They adopt a different goal: "Let's try and reduce how much we spend in our lab while assuming that our quality won't get worse." But they don't look at the downstream outcomes of shorting quality. In the evolving laboratory economy, those labs will soon find themselves in increased financial distress.
CLP: That seems straightforward enough. What has been holding it back?
Westgard: The last few decades, we've had a slash-and-burn mentality, where we are overly concerned with reducing costs. We don't always think about how a cut in the lab might affect the clinician on the ward, where decisions can become more costly and care less safe. There are ways to connect those dots. If I have a high-quality assay, it changes the way I operate. I do not constantly have to use "workarounds" to keep the method operating. I'm not spending extra time and money repeating controls, repeating tests, recalibrating the method, etc. I'm not forcing the clinician to keep ordering tests, to keep the patient in the system longer. Instead, I'm giving the clinician the right result the first time. High quality is a triple win: It's good for the patient, good for the lab, and good for the budget.
CLP: Is this simply a lab issue, or are the roots in something bigger?
Westgard: If you put this in the overall context of the Affordable Care Act (ACA), we're switching from pay-for-volume [paying for each procedure and each test] to paying for value. In the old paradigm, if you got the test wrong the first time, you still got paid. It's really a perverse incentive. You could be a poor-quality lab and still make money. In the old system, it was OK to get the wrong result and repeat the test until we got the right result. We could potentially earn revenue for every time we ran the test, right or wrong. Under the new system, you might get one bundled payment for the care of the patient, and you won't get paid to make mistakes. You need to get the right results the first time if you want to maximize your revenue.
CLP: Is it fair to say that the ACA is the reason for this "paradigm shift"?
Westgard: The ACA is forcing the change, but if you look at private payors, they are all moving toward the same set of requirements and guidelines—moving away from paying for quantity to paying for quality. So even if you think of all the political obstacles, even if the implementation is rocky, this new model is still our future.
CLP: The idea still seems somewhat nebulous. How do you calculate real savings?
Westgard: We advocate what's commonly called a Sigma-metric approach. You quantify the quality of the method, and that allows you to redesign how you do quality control. Using that model, we've worked with labs where we can quantify real savings: reduced use of reagents, calibrators, and controls; reduced rejections; reduced downstream interruptions to processes like auto-validation, etc. Those are hard dollars being saved by high quality. Sometimes there's also a soft dollar savings that might manifest itself in the form of less time spent trying to fix a broken process (troubleshooting, for example). All that saved time comes back to the tech, who can use it more productively.
CLP: How much improvement can labs expect to make if they address this?
Westgard: One of the reasons there is an opportunity to generate significant savings in labs is that many of the QC policies they implement are more than 50 years old. Their QC rules are essentially traditions, handed down from one generation of techs to another. Most of what is done for quality control is not truly scientifically based. It's also a poor assumption to make that all methods are of acceptable quality. We know of many examples where methods are of poor quality, or lot-to-lot reagent changes have significant impacts on test results. By identifying and avoiding those bad test methods, labs can save themselves a lot of trouble both on their floor and on the ward floor.
It's hard to quantify how much a laboratory could potentially save, since it will depend heavily on where they are now with their QC practices. But, for example, if we take a lab where a "traditional" approach to QC is being implemented—two controls per run with two SD control limits—that's an expected false rejection rate of 9%. Nearly one out of 10 runs being rejected. If we choose the right method and the right QC using Sigma-metrics, we can basically eliminate that false rejection problem completely.
CLP: Are there any improvements that can be made outside the lab?
Westgard: The other part of the conversation about high quality is where manufacturers come into play. We need to make sure that the manufacturers are providing high-quality tests. We should demand that they provide a Six Sigma level of quality. If you think about a laboratory that is considering a vendor for an instrument, they should ask each vendor for performance data. It's as about as commonsense as walking onto a car lot and asking for the miles-per-gallon of each model.

If you only focus on how cheap something is or how fast it is, then you implicitly tell the manufacturer that quality isn't important to you. We've actually seen some methods get worse over the last decade. Manufacturers are incredibly attuned to the voice of their customers. If they don't hear that quality is important, but speed is, that's what they will deliver.

Finally, there are ways to better communicate the high quality of test results to clinicians. If we have this high-quality lab method, those results can be interpreted more tightly, over smaller intervals and changes in values, potentially. This relies on the great work of Callum Fraser and his colleagues. But this is an area where labs can actually step up and provide more value—helping to identify when a significant change has occurred in a patient in the test report. Labs can stop just generating numbers and start helping manage diagnoses.
CLP: How can laboratory professionals go about assessing their situation?
Westgard: Laboratories are already collecting data on precision and bias. They are required by CLIA to take place in proficiency testing. Maybe it's infrequent, but they have it. And that's all you need. If you have 100, 200 tests, you already have the data you need to make a Sigma-metric assessment. The one step that may be unfamiliar is choosing a quality goal, or requirement. We think the hardest step for labs is not gathering performance data, but deciding how good a lab test needs to be. CLIA regulates a number of analytes, so those tests have mandated quality specification, but there are multiple sources of allowable total errors for many of the other tests. On Westgard Web, we post as many sources of quality goals as we can, to try and make this step as easy as possible.

Once a laboratory makes the decision on the quality required by its tests, to make the Sigma-metric assessment is only a three-variable equation. All you'll need, really, is a spreadsheet. It's reasonable to think that in less than a day you can make an assessment on the analytical test performance.
CLP: What are the remaining obstacles to implementing higher-quality testing throughout the country?
Westgard: I definitely think one of the obstacles is shortsightedness on the part of those in the lab and healthcare administration.

We still have to have a serious conversation about how good lab tests need to be. Many labs might not be thinking about that. They are probably thinking about how fast and cheaply they can get results, assuming that quality is the same on all tests. It's simply not true: Even for some of the most common tests on the market, the quality provided by different manufacturers varies significantly.

But even for those who do understand the value of a higher-quality instrument and want to make that choice, even if it's a bit more expensive, often they have the obstacle of convincing their upper administration. In that next level of the healthcare system, many people don't have experience in the lab. They think a test is a test is a test. The key then becomes presenting more performance studies, showing how test quality has a true, palpable impact on outcome. Don't just show how it affects the people in the lab, show how the right results reach clinicians more effectively and more accurately. And show how the wrong results can confuse clinicians and misdiagnose patients—that's a huge expense and a major legal liability.
CLP: The ACA is helping usher in a new understanding of quality. Is there anything in it that presents a challenge to this change?
Westgard: Nowhere in the ACA does it say labs are going to be able to charge more money. We have to get more out of less. This, unfortunately, is a mode of operation with which laboratories are all too familiar. We have had several decades now in which labs have faced cuts. And labs have become good at increasing productivity while enduring those cuts, but they've "leaned" themselves to the bone. Labs have stretched themselves and thinned staff about as far as they can. Automation and informatics can help squeeze more out of each tech, but it's become harder and harder to cut FTEs. Labs are already on skeleton staff. The best they can do is get more out of the existing staff that remains. Implementing a higher-quality system will help labs endure the added pressures and demands of the ACA.

The only way to get more productivity now is by getting higher quality. If a lab has too many test repeats, troubleshooting episodes, recalibrations, and waste, their operating costs will be magnified.
One of the outcomes of ACA is that it will force more consolidation. As revenues to labs are reduced, pressure will mount. Those poorly run labs that adopt a low-quality approach—they'll either have to merge, get acquired, or go out of business. Or they could choose the high-quality path.
Kurt Woock is associate editor for CLP.