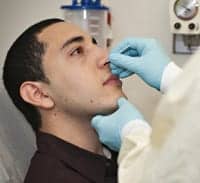 The Centers for Disease Control and Prevention (CDC) has reported that "influenza activity began relatively early compared to recent seasons during the 2012-2013 season."1
As the 2012-2013 influenza season outbreak unfolds, questions about proper sample collection for respiratory specimens arise.
COPAN Diagnostics Inc, Murrieta, Calif, understands the importance of a sample collected properly and has worked with infection control and point-of-care providers to develop training videos and specific collection guides demonstrating the proper technique for collection of respiratory specimens.
Among the educational resources produced by the company are a set of videos created for the CDC and The Joint Commission, to be used in a Web-based course on influenza diagnosis and treatment in ambulatory settings for health care providers. The educational videos show proper technique for collecting respiratory specimens for influenza using swabs, aspirates, and washes.
Demonstrations of nasal and nasopharyngeal swab sample collection use FLOQSwabs™ by Copan and Copan's Universal Transport Media (UTM). Additional videos demonstrate proper technique for nasal aspirates and nasal washes.
The videos are a free resource available on the company's web site: http://www.copanusa.com/index.php/education/videos/.
[Source: COPAN Diagnostics]
1. What You Should Know for the 2012-2013 Influenza Season; Questions & Answers. Centers for Disease Control and Prevention (CDC). http://www.cdc.gov/flu/about/season/flu-season-2012-2013.htm