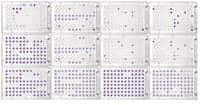 Phenotype MicroArray analysis of human cellsBiolog Inc, Hayward, Calif, has announced results from autism research using its advanced Phenotype MicroArray (PM) cell scanning technology.
In a paper published in the journal Molecular Autism, researchers from the Greenwood Genetic Center reported a 100% correlation (87/87) of decreased metabolism of L-tryptophan in individuals with Autism Spectrum Disorders or ASDs.
"Autism is having a tremendous societal and financial impact with an alarming incidence rate, affecting approximately one in 50 school-aged children in the US. But the reasons behind the rise of this disorder remain a mystery to researchers," says Charles Schwartz, PhD, director of research at Greenwood Genetic Center, Greenwood, SC, and lead investigator. "This critical discovery has important implications and applications, focusing future research ontryptophan metabolism as a possible basis for diagnosis and treatment of ASD. As tryptophan is a precursor to many important neurochemicals, changes in its metabolism could result from many genetic changes and explain why single gene association studies have been unsuccessful in providing an understanding of this disorder. We believe that these findings are just the beginning steps toward solving the multiple mysteries that make up ASDs."
The metabolic alteration was not seen in 128/128 controls sampled from normal and other neurologically impaired populations.
This is the first time L-tryptophan metabolism has been definitively linked to ASDs and this connection may lead to a better understanding of the biochemistry underlying ASDs and direct studies toward effective diagnosis and treatment.
[Source: Biolog Inc]