User-friendly collaboration is a given
BY KAREN APPOLD
Advances in anatomic and digital pathology are enabling medical professionals to make more accurate diagnoses than ever before. This is possible, in part, because new trends in anatomic pathology allow for more collaborative and consultative care. "Having the capability to share images is a better way to educate others and make a diagnosis," says Oleg E. Bess, MD, founder and CEO, 4medica, Culver City, Calif.
4medica's technologies permit pathology laboratories to have a physical collaborative environment in which pathologists in multiple locations can view images from the microscope and discuss them simultaneously.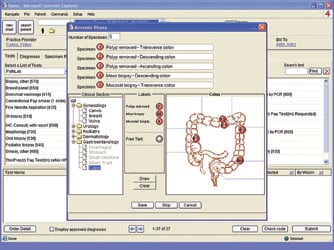 Pathology Ordering Screen: 4medica provides the ability to identify biopsy locations and make annotations on selected anatomical images using online drag-and-drop technology. As the biopsy locations are selected, the system automatically generates specimen labels for each location.
This technology, called teleconsultation, is a medicine-based, teleconferencing-type solution in which pathologists can share their computer's desktop with referring physicians. 4medica also provides tools to explain a diagnosis. All parties can access a board where images are discussed, point to a particular area on an image, and perform all functions of a microscope—such as zoom in. Multiple participants can also annotate an image—say, by drawing arrows—during the teleconsultation.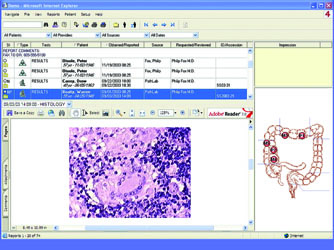 Pathology Test Results Screen: PDF reports can be displayed and printed with embedded light microscope images. Also, the biopsy image is automatically mapped from the original order for review with results. Courtesy 4medica. Today's anatomic pathology technologies also allow for advanced networking capabilities, such as connecting with laboratory information systems (LIS), billing systems, physician office electronic medical records (EMRs), and consultation networks. And, they can be used among multiple sites, according to Jaye Connolly, CEO, PathCentral, Irvine, Calif. The technologies can also be integrated with different types of equipment, such as that involved with flow cytometry, fluorescence in situ hybridization (FISH), and molecular analytics for technical component and professional component (TCPC) revenue sharing, as well as device integration for the latest molecular testing platforms (eg, FISH, polymerase chain reaction (PCR), cytogenetics, and gene micro arrays).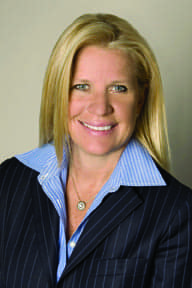 Jaye Connolly, CEO, PathCentral Due in part to recent legislation impacting the anatomic pathology marketplace, hospitals will be aggressively marketing to referring physicians to send their patients' anatomic specimens to the hospital for processing and reporting diagnostic results, says Richard Callahan, vice president, sales and marketing, NovoPath Inc, Princeton, NJ. In turn, reference labs will defend or offset the hospital's aggressive approach to the referring physician by becoming more strategic in their approach to the market by offering a broader test menu and extending services to maintain their client base.
Despite technological advantages, Callahan says that the degree of government legislation will proportionally impact the pace that molecular and digital testing methodology will evolve. In addition, legislation, such as the Affordable Care Act, has and will continue to have an impact on reducing the lab's reimbursement rates. Labs will continue to explore ways to become more efficient with less revenue per traditional diagnosis methodology. More labs will rely on vendors to help streamline workflow, increase efficiency, reduce operating costs, and provide new test methodologies.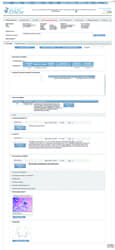 PathCentral's AP Anywhere Express Anatomic Pathology Laboratory Information System (APLIS) is for smaller and startup pathology practices.Trends in Digital Pathology Technologies
Adoption of digital pathology systems also continues to increase, says Dirk G. Soenksen, MS, MBA, founder and former president/CEO, Aperio, Encinitas, Calif, and the Digital Pathology Association's immediate past-president. Clinical institutions are increasingly recognizing how digital pathology can increase patient and physician satisfaction, while reducing costs. "The ability to easily share entire pathology cases between colleagues, to quickly consult with specialist pathologists, or to efficiently access archived digitized material are examples of growing uses of digital pathology," Soenksen says. In anticipation of the eventual shift to digital pathology, digital slides are now routinely used for proficiency testing by the College of American Pathologists, and the American Board of Pathology administers many of its examinations using digital pathology.
Demand for cost-effective digital pathology solutions is increasing, Soenksen says. In an increasingly cost-sensitive environment, this demand is being addressed by:
• low-cost scanning instruments;
• higher-throughput and generally, more reliable systems;
• the emergence of novel business models such as rental and per-use;
and
• the emergence of cloud-based solutions, which minimize startup costs.
Clearance from the FDA is expected for the use of digital pathology for clinical image analysis. "In the early days of digital pathology, many labs were comfortable self-validating systems for scoring some digital immunohistochemistry (IHC) slides," Soenksen says. "The expectation today is that suppliers of digital IHC solutions obtain FDA clearance for all digital IHC tests offered."
NovoPath's Callahan says that "when digital pathology is approved by the FDA as a diagnostic tool, its use will grow at an unprecedented speed."
While the primary focus of many digital pathology customers is still on the scanning instrument, there is increased recognition that software is used to manage or analyze the digital slides that determine the users' experience. "Vendors have invested in making this software easier to use, which has resulted in increased usage," Soenksen says. "The increasing availability of image-analysis software has also contributed to expanding customers' access to novel quantitative tools and the ability to solve a wider array of problems."
| | |
| --- | --- |
| | "When digital pathology is approved by the FDA as a diagnostic tool, its use will grow at an unprecedented speed." —Richard Callahan, vice president, sales and marketing, NovoPath |

Anatomic Pathology Advances
Anatomic pathology technologies have come a long way in the past 5 years. Case in point, the ability to scan the entire slide using new digital technologies is now possible. "Our anatomical pathologists can use a very sophisticated scanning method that scans an entire slide or uses a camera mounted on top of the microscope to take pictures of slides," 4medica's Bess says. "More of our customers want to include a snapshot or illustration of the diagnosis to illustrate the diagnosis in their report."
4medica's technology allows pathologists to share clinically important information with the physician as part of their workflow. "If a tissue specimen is sent to the pathology department, it gets automatic access to the patient's other data," Bess says.
Pathologists can obtain information from other clinical data about the patient, such as radiology images or lab results. "If you practice in an ambulatory environment, you are cut off from specimen information," Bess says. "Our technology allows clinicians to get a similar amount of supporting clinical information as they would get for an inpatient, so the diagnosis can be just as good."
Callahan reflects on advances in the past several years, which include:
• Emergence of highly sensitive, accurate, and timely molecular testing;
• More refined specimen tracking from point of specimen acquisition to disposal;
• Some anatomic pathology LIS vendors are providing tools that support a lab's approach to adopting LEAN methodology and for business analytics; and
• Improved specimen processing/resulting through bar code technology and advanced LISs.

| | |
| --- | --- |
| | "Having the capability to share images is a better way to educate others and make a diagnosis." —Oleg E. Bess, MD, 4medica |

Digital Pathology Advances
Digital pathology has also made significant advancements in the last several years in areas such as slide scanning, workflow integration, reliability, ease of use, and compliance.
Scanner throughput has increased considerably. "The capacity of automatic slide loaders has increased as scanning speeds have decreased," Soenksen says. "Scanning an entire slide in 1 minute was not possible 5 years ago; it is today. Scanning fluorescence slides—a challenging endeavor just a few years ago—is much easier nowadays. Overall, scanning systems' ease of use has increased significantly. Thousands of slides can be scanned every day, reliably."
The ability to efficiently manage large quantities of digital slides and associated metadata into a centralized database has improved significantly as vendors have added a multitude of features in response to customer demand. Soenksen notes that interfacing a digital pathology system to an LIS system, while still not trivial, is much easier today using standard and best practices that have been established for implementing bidirectional HL7 interfaces.
Significant progress has also been made in the area of compliance, as vendors have responded to demands with a variety of standards, including those by the FDA's Quality System Requirements, Good Laboratory Practices, and HIPAA.
Other advances, according to Connolly, are:
• A new breed of low-cost, whole-slide imaging platforms that are making digital pathology affordable for any practice.
• Whole-slide imaging companies have developed point-to-point collaboration tools for case sharing.
• Whole-slide imaging systems are being integrated into cloud-based anatomic pathology lab systems and peer-to-peer social media-style consultation tools to facilitate TCPC revenue-sharing programs and secondary consults.
• The ability to support imaging to facilitate and support remote frozen section viewing and reporting.
Unique Offerings
Today's anatomic and digital pathology technologies offer many features that benefit labs when performing patient testing.
4medica's iEHR® – Lab4 is an outreach solution that enables physicians to place lab orders and receive lab results online, providing a comprehensive patient-centric view of lab data from multiple labs. "The lab data may also be aggregated across inpatient and outpatient settings, providing physicians with a longitudinal view of a patient's lab data along with automatic trending of selected values," Bess says. "4medica's unique Web-based software as a service solution allows labs, hospitals, and physicians seamless integration from end to end, improving lab ordering workflow between physician offices, patient service centers, outpatient clinics, nursing homes, home health, and other medical facilities."
The company's Web-based solution, Path4, provides one-screen pathology ordering and results with automated label generation. "This functionality enables physicians to use drag-and-drop functionality to identify biopsy locations on organ images," Bess says. The system automatically generates labels with a description of the locations. The image, with biopsy locations, is then transferred with the requisition to the pathology lab and is available for reference by the physician with the result. Path4 can be integrated with an EMR system or stand alone via web-based access.
PathCentral has built the first enterprise-wide, cloud-based anatomic pathology laboratory systems (AP Anywhere and AP Anywhere Express), and the first cloud-based peer-to-peer worldwide consultation and collaboration network—PathCentral Pathology Network, Connolly says. The network offers the power of social media, the technology of digital imaging, and the functionality of an LIS. "These tools provide unprecedented levels of system access that allow customers to create robust client outreach programs, including TCPC revenue-sharing collaborations," she says. "These tools also allow users to perform secondary consultations and share case information securely between groups and users within the network." The system also offers:
• seamless integration of tech-only esoteric testing needs;
• an opportunity for outreach growth;
• customization of reports;
• flexibility/easy of use; and
• a fully integrated pathologist command center.
The NovoPath AP LIS is a highly customizable, advanced, client-hosted software system used to process and aid in rapid diagnosis of anatomic pathology specimens, and distribute basic pathology reports as well as highly complex cases requiring multiple specialties to analyze and provide diagnosis. Because it is modular, it suits labs of all sizes. The system offers:
• A LEAN process mapping/specimen tracking module to streamline workflow, and reduce waste and probability of lab error.
• NovoNotifier, which provides the ability to deliver pathology reports using a multitude of technologies from traditional methodologies such as faxing, website retrieval, remote printing, and depositing reports on iPhones, iOS, and Android platforms to EMRs using a combination of client-hosted and web-based technology.
• Web Reporter, a combined client-hosted server and web-based technology that provides the capability of remote access, resulting in cases using a web browser while data is captured or archived in the lab server's database.
• Case preview, which allows the pathologist to open a pathology report within 1 second to review it before signing out. This eliminates the seconds of waiting time needed to open a pathology report formed in a Word document.
The new age of anatomic and digital pathology is here. Pathologists can take advantage of all that it has to offer.
Karen Appold is a contributing writer for CLP. For more information, contact Editor Judy O'Rourke, [email protected].